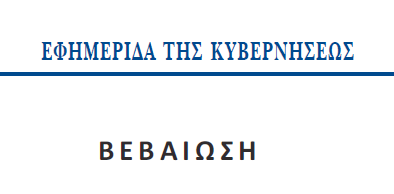 On the 11th of October 2020, the final form of the notarial certificate that foreign investors applying for a residence permit need to submit along with the rest of the necessary supporting documents was published in the Government Gazette No 4483.
Among other things, this certificate needs to include information about the parties of the contract, information regarding the real estate, the price of the real estate, the means of payment (crossed bank cheque, credit transfer, POS transaction, credit card or debit card) and payment details. This certificate must also specify whether or not the contract is subject to a resolutory condition and whether or not the property was previously used by the seller to acquire a residence permit.
This certificate must be provided by the same notary who wrote the real estate purchase contract. According to Article 20B of Law 4251/2014, in the event that the applicant fails to provide this certificate, their application to be granted a residence permit through the purchase of real estate will be rejected.
Taking the abovementioned into consideration, it is evident that notaries have now a very important role in the issuance of Golden Visas to foreign investors as the approval of their application depends on the validity of this certificate.